Christmas Opening Times
The last classes before christmas will be Tuesday 4th December & Thursday 6th December.
We will resume on Tuesday 8th January & Thursday 10th January.
Please everyone having an amazing holiday period , can't wait for 2019 with some fabulous ,exciting prospects on the horizon.
If anyone would like to know their amended payment date please get in touch, most receipts were given out before the christmas holiday was confirmed.
PLEASE REMEMBER - to all members there are NO CLASSES on Tuesday 27th November
November - Yet another successful rally trial for members who travelled to Fife . Lesley gained another level 1 and another Level 2 certificate with both her dogs.
Club members old and new. I have started a 'Body pup' fitness class for the dogs on a Thursday night. The class is open to healthy dogs over the age of 9 months and is aimed at working on strengthening key muscle groups and creating a strong core which in turn helps reduce injury and improve general health. Get in touch if you would like to book a place , very limited. Blocks are booked over a 5 week period .
What a fantastic summer it has been and several members made the long trip to Fife to compete in a rally trial with spectacular results. Charlotte gained a Level 3 certificate with a 5th place and a Level 4 certificate with a 6th place. Jura gained another Level 1 certificate, Mia gained a Level 1 certificate with a 4th place. BUT the stars had to be Lesley and Odin who at their FIRST EVER rally trial not only gained a Level 1 and a Level 2 certificate but did it winning their classes. Couldn't be prouder of everyone, well done !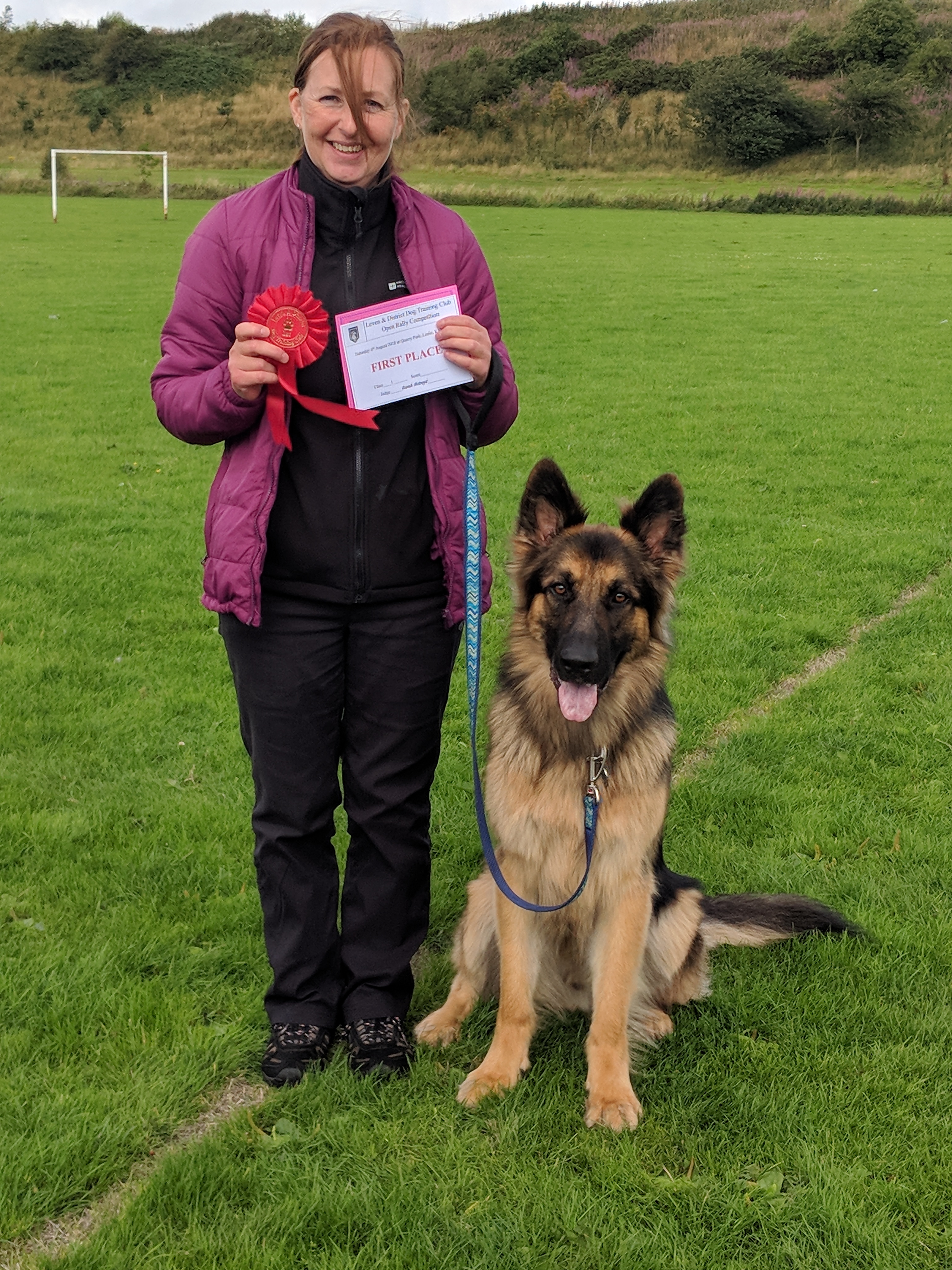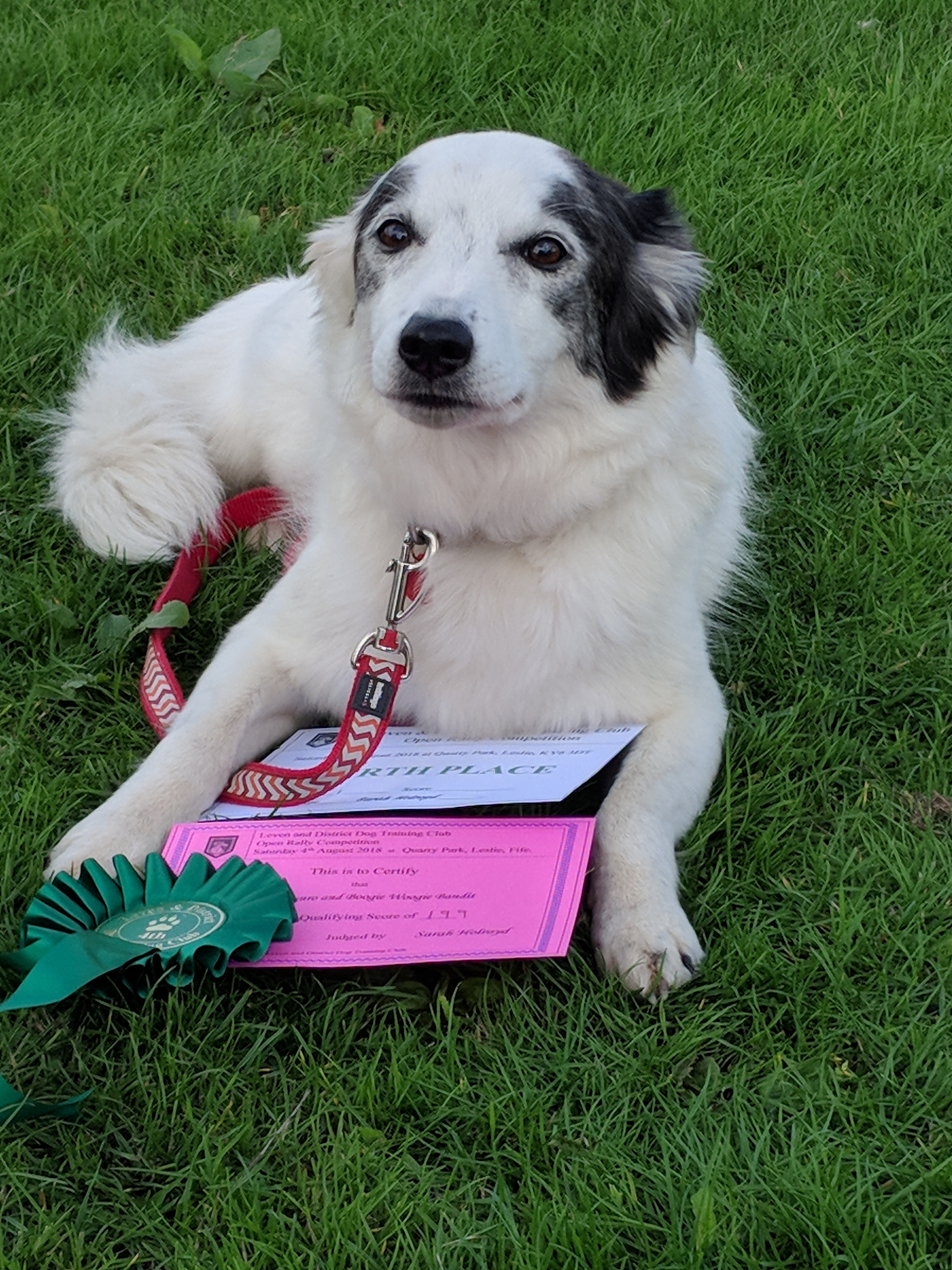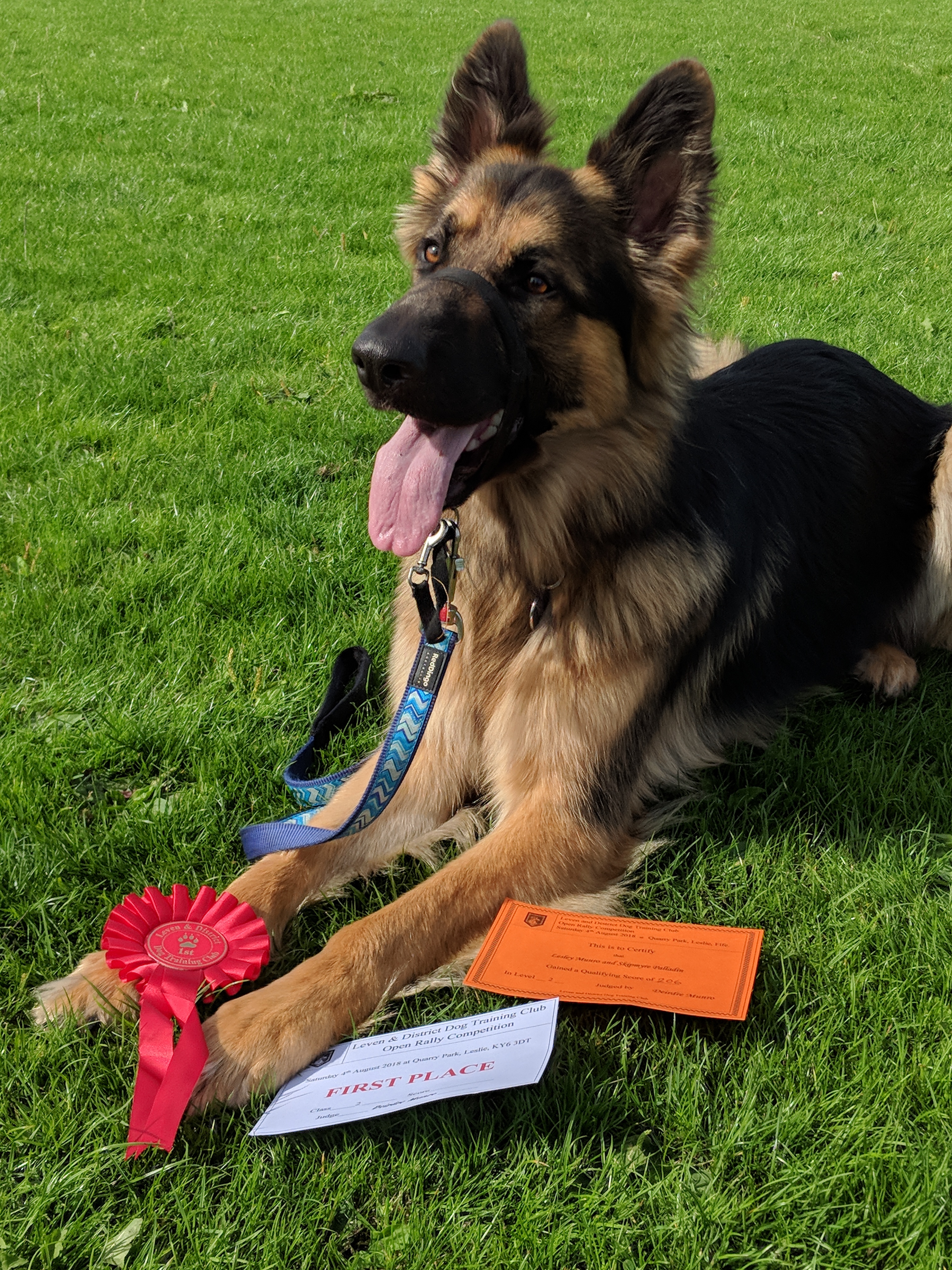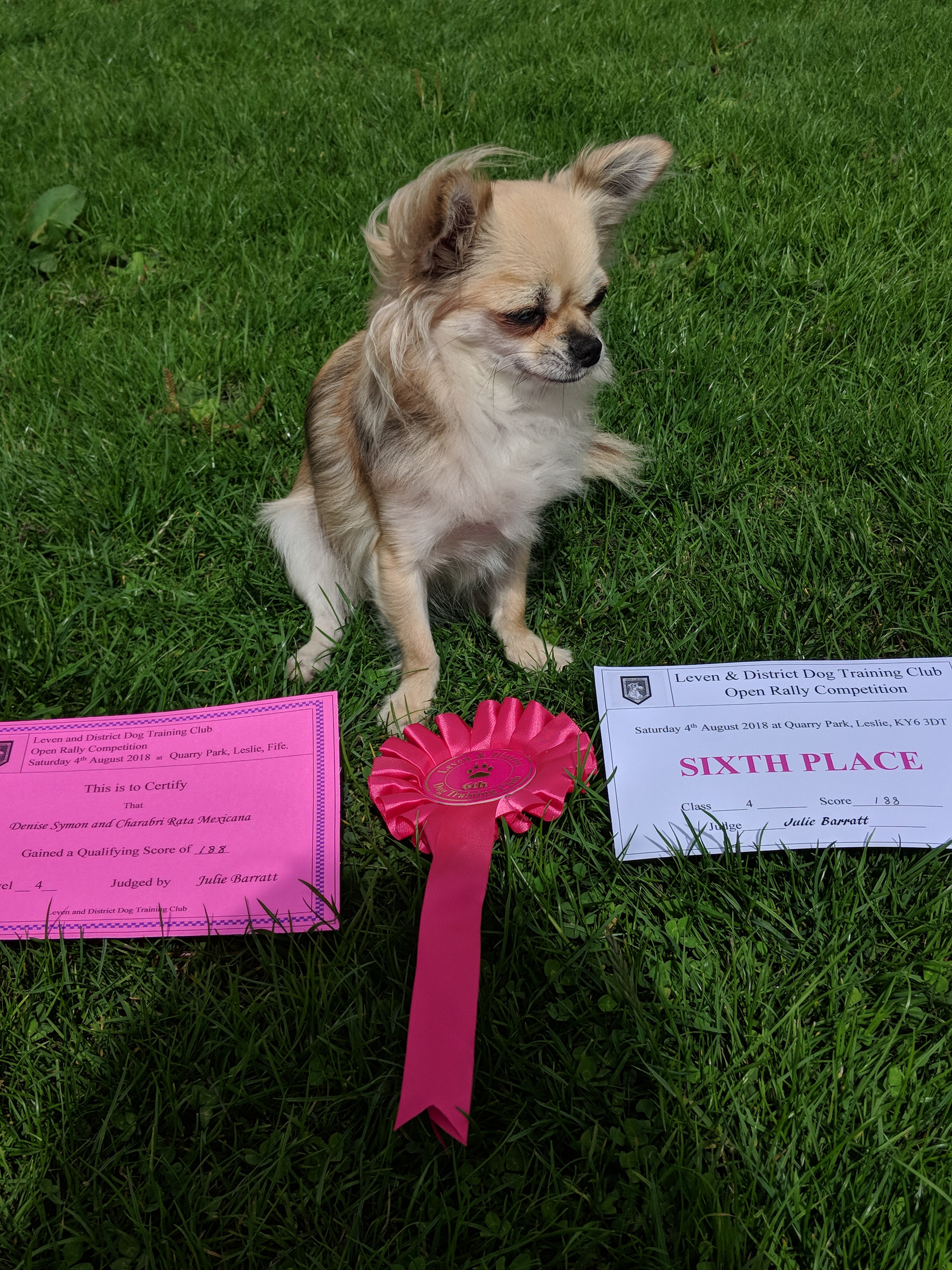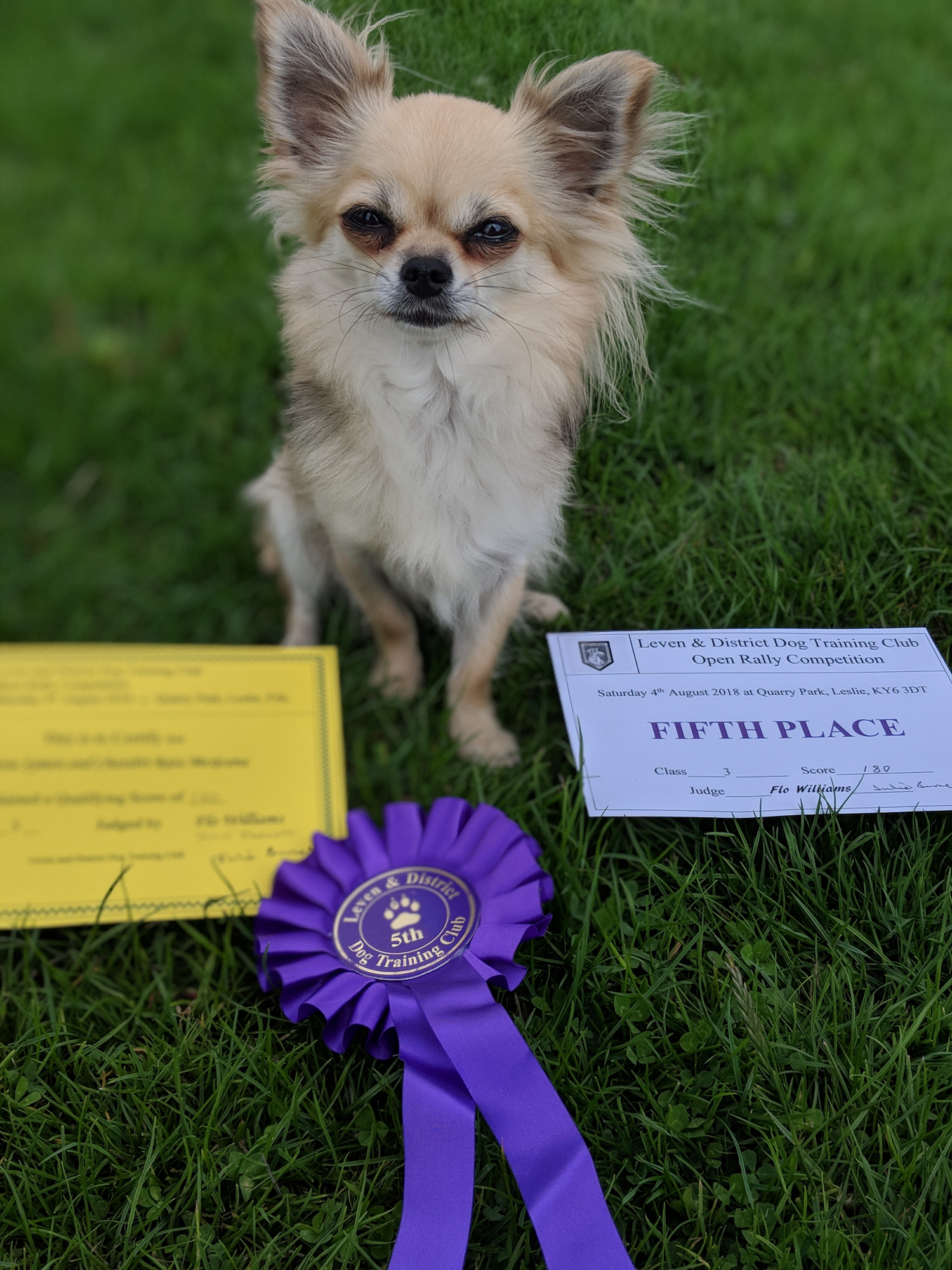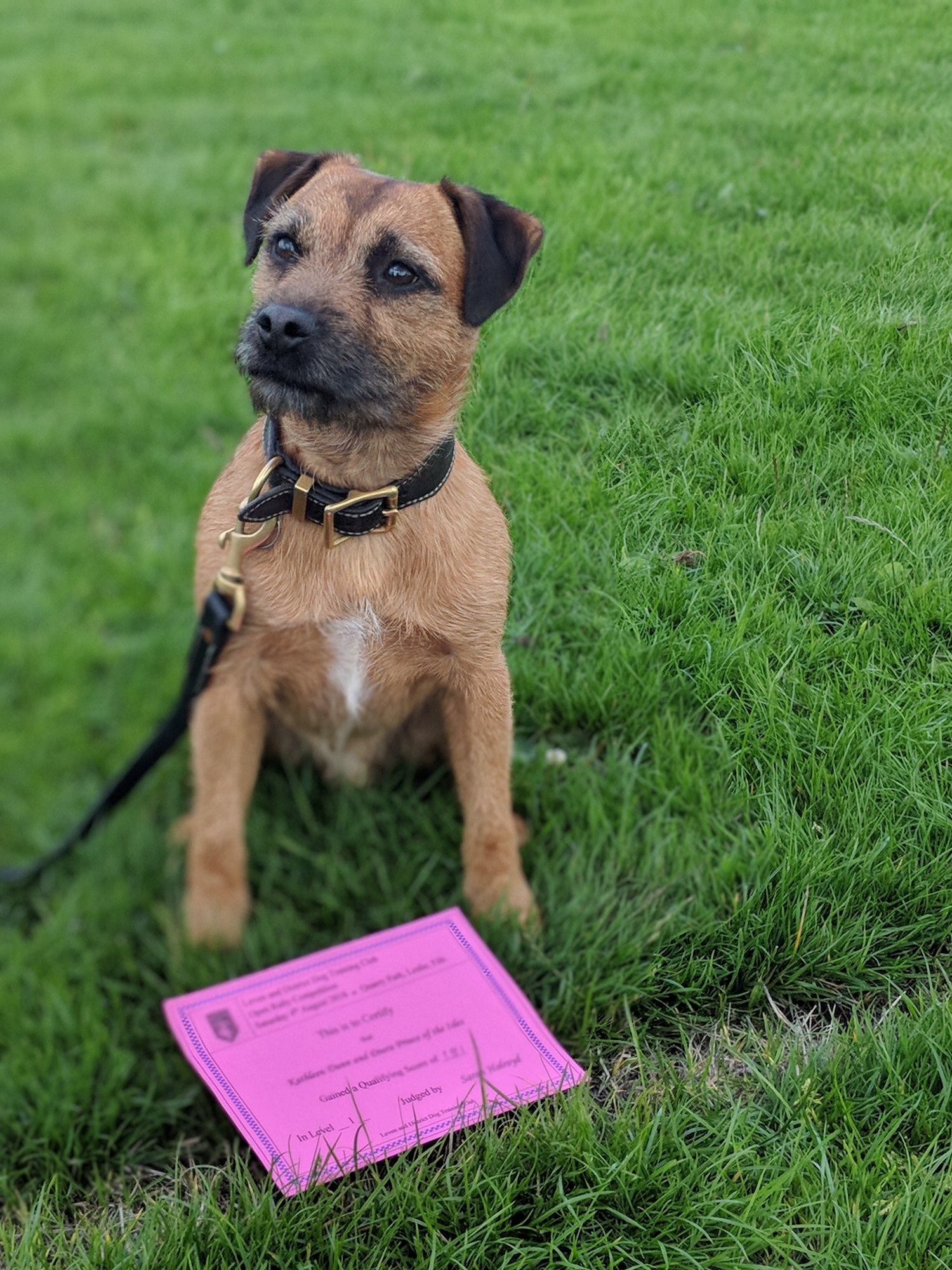 Finally the new treats have arrived. Meat Love shots will be available from 24th July . They cost
£1 .50 and come in poultry, salmon and meat and cheese flavours. Guaranteed to drive the dogs wild!
The girls did a fabulous job in their appearance in Legally Blonde at the Citizens Theatre, thanks to everyone who came to see us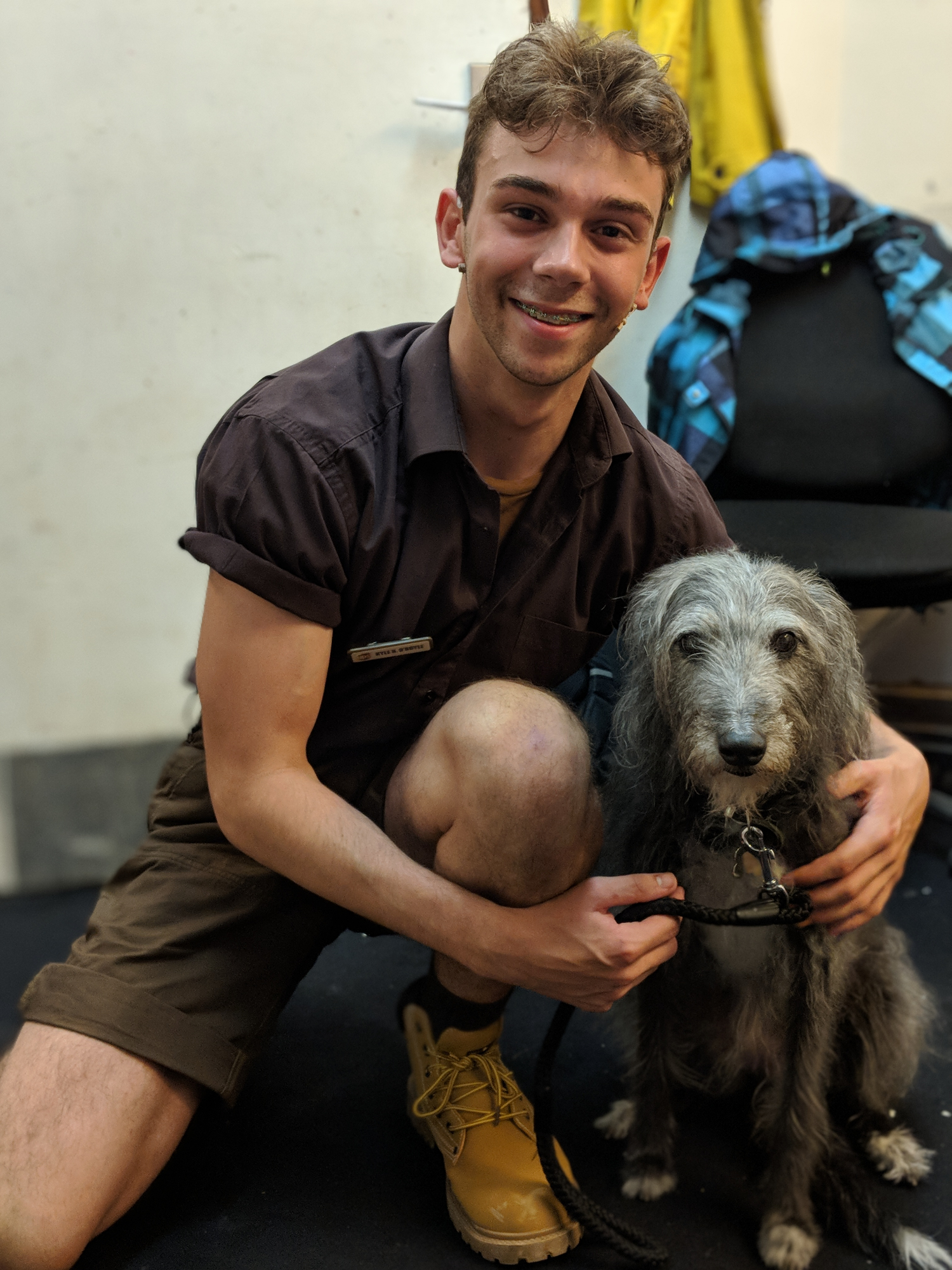 TUESDAY 12th JUNE - Please note there will be NO classes on this night. This is because Bridget and Tilly are starring in the musical Legally Blonde at the Citizens Theatre
There's a new addition to the clan. Kevin has arrived all the way from the famous Bramerita kennel in Lincolnshire. He is a cheeky ball of fun and so far training has been entertaining to say the least, he's a demon with a tuggy toy. Can't wait to see what the future holds , he will step into the show ring later this year.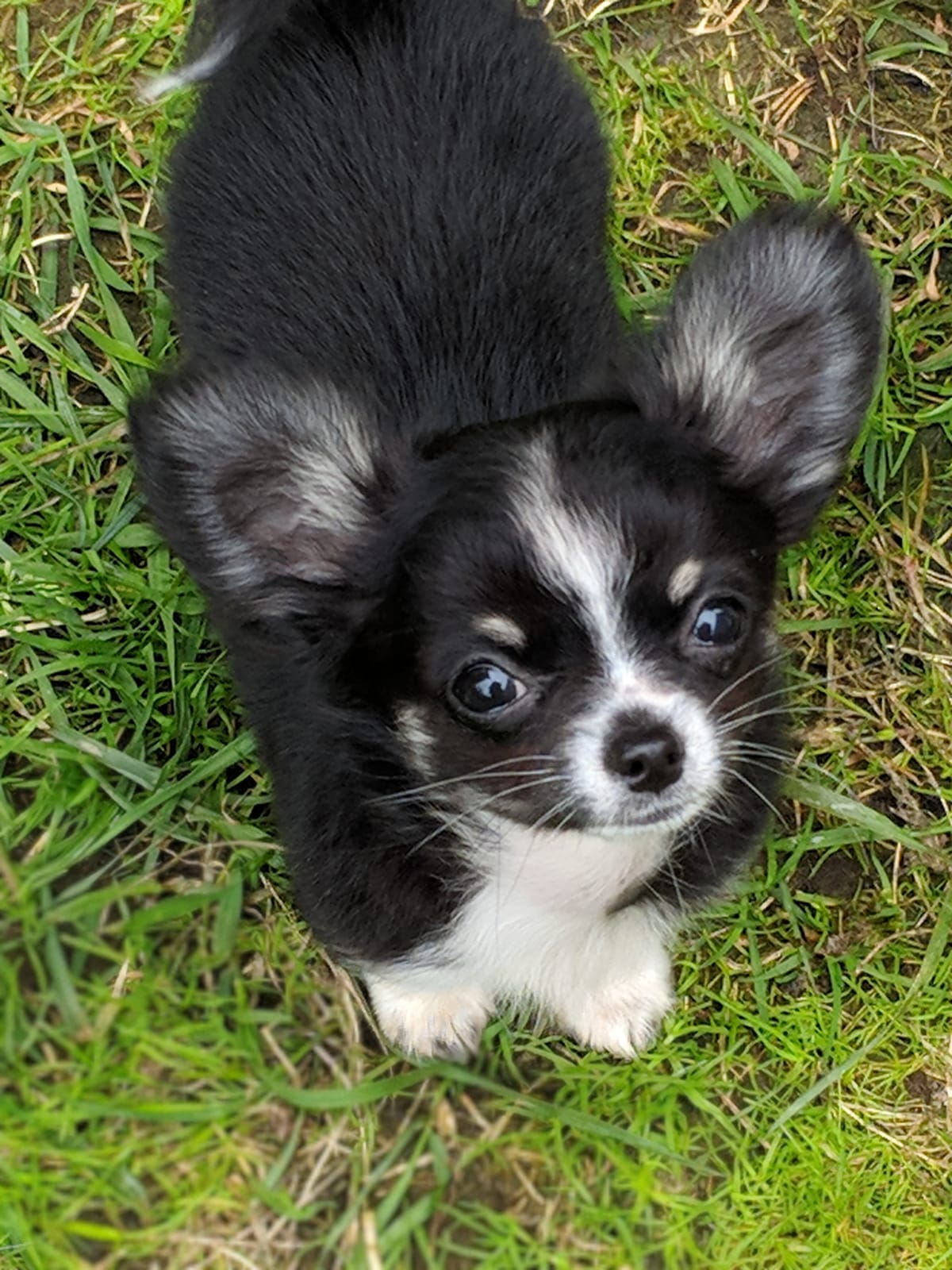 May was our first rally trial of the season. It was great to see more members having a go and competing. Unfortunately only Charlotte was successful gaining another Level 3 certificate and a 6th place
I am pleased to let everyone know I have now completed my Pro Dog trainer course and after a lot of hard work passed with flying colours. I have also completed a 'naughty but nice' course for dogs with specific behaviour issues. Hopefully in the future this will mean I can run workshops and courses for dogs falling into this category although at the moment the venue we use doesn't really have the time to fit this in. All of the puppies of 2018 so far have been trained using this method and I've been blown away with the results . We've always had a good success rate but all these owners and their pups have worked (and played) hard with spectacular results. The method involves using games and concepts to produce real life ready puppies. If you would like to keep up follow the AbsoluteDogs facebook page or if you're having struggles follow their naughtybutnice facebook page. If you are a club member with any specific problems please speak to me about solutions. Hopefully in the near future I will set up our own facebook page where members can support each other.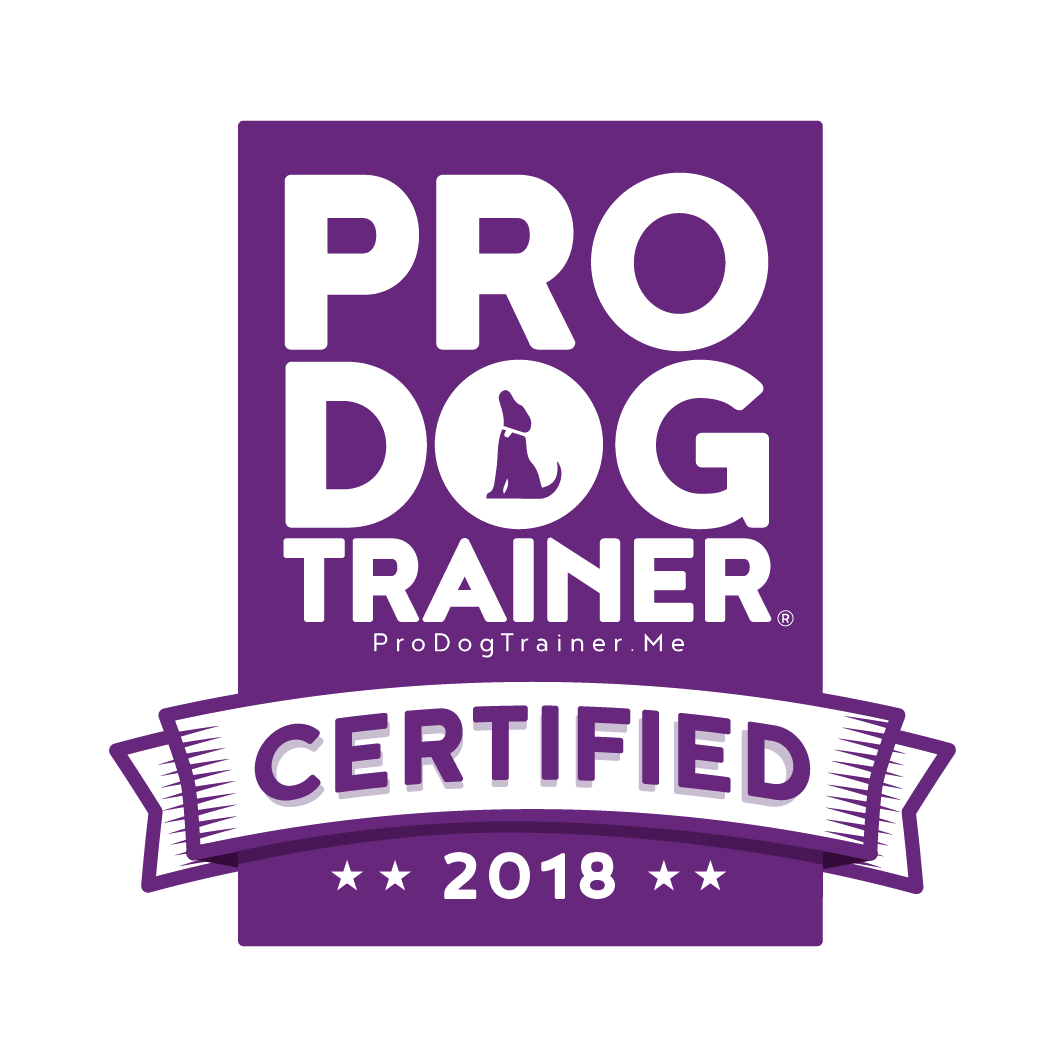 Our little star Harley went to Crufts and although she wasn't placed in her class it was unique experience for her and her family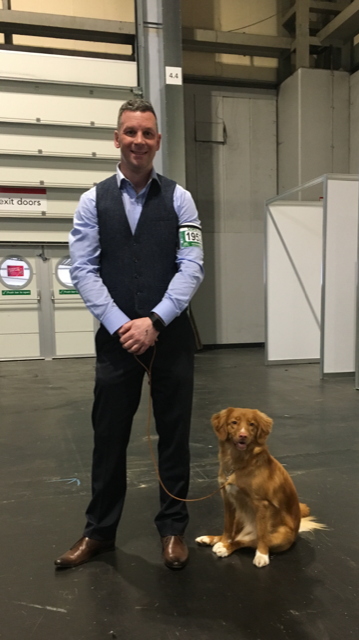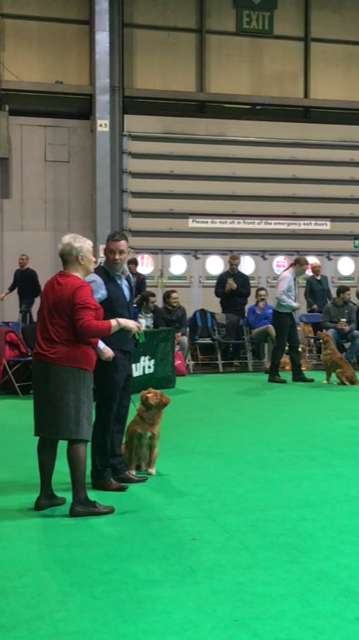 Huge congratulations to Harley (pictured below) She has qualified for Crufts this year in the breed classes and is on her way this week. We would all like to wish her the best of luck, have a great time xx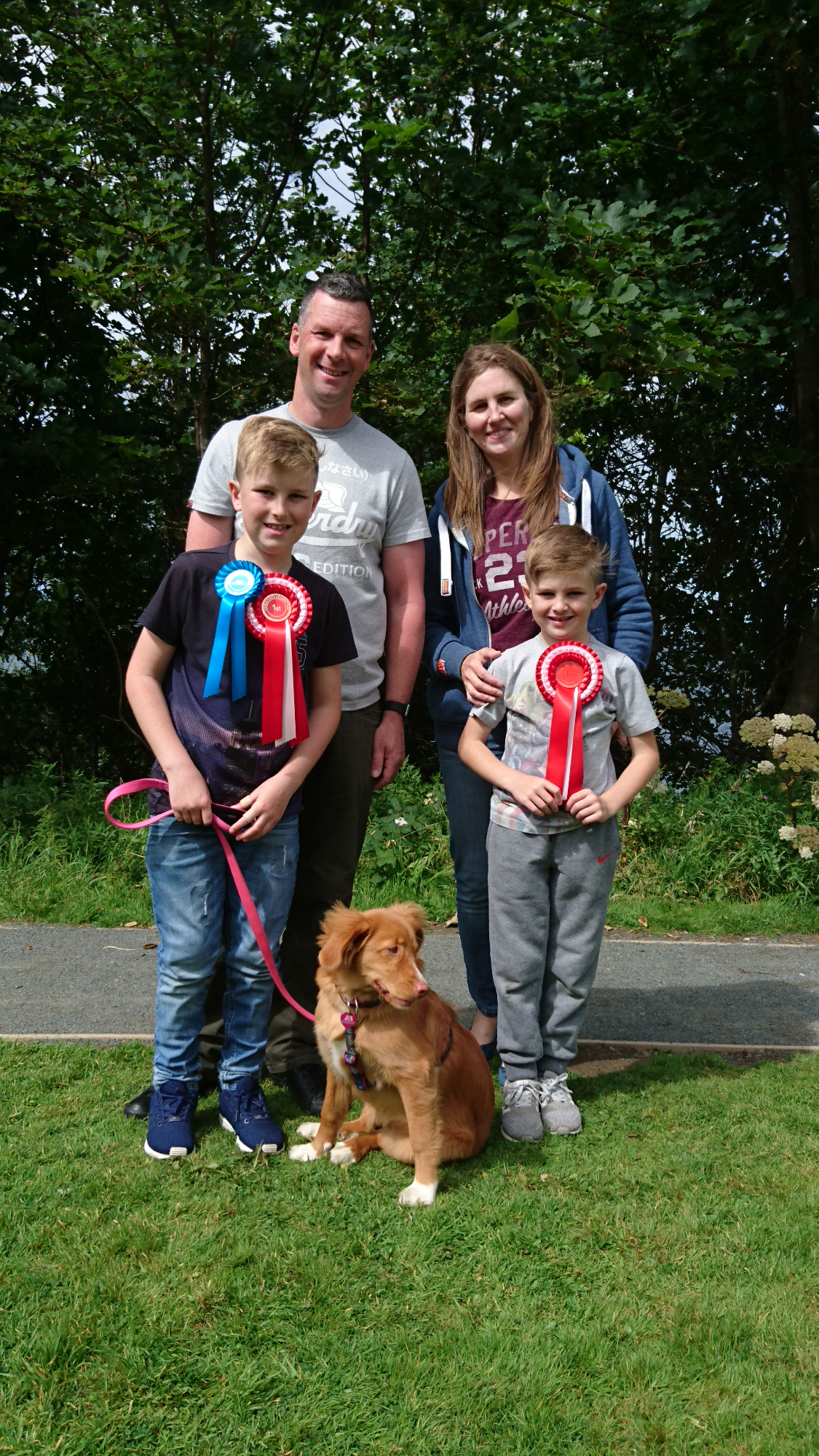 Some exciting news for everyone. You may remember I showed you all some toys from Tug-e-nuff last week, well we've teamed up with them to offer you a fabulous discount of free shipping when you order anything . All you have to do is click on the link below
http://tug-e-nuff.co.uk?rfsn=1006067.ddf07b&utm_source=refersion&utm_medium=affiliate&utm_campaign=1006067.ddf07b
Alternatively you can use the following discount code STMIRINDTC
Happy shopping everyone 😍
Tues 16th January - Sorry classes are cancelled tonight due to the bad weather , I hope I haven't missed anyone , I've tried to phone/email you all .
15th January - Hi folks, I'm am very much aware of the poor weather forecast for tomorrow. Please keep an eye on this page just in case classes are cancelled
Reminder that classes will start back on Tuesday 9th January. I have some cracking game based training to share with you all , can't wait to start back.
Ok, I have been saving some fabulous news for the new year. At the end of 2017 some of the members competed at a Rally Obedience Trial with spectacular results. So from left to right. My own dogs Bridget gaining her third Level 1 and third Level 2 certificate making her Level 3. Next is Charlotte ( also mine ) , she gained a Level 4 certificate and also a sixth place in the class. Next is Max who gained his first Level 1 and Level 2 certificates and finally Sprout who gained her first Level 1 certificate. Given that this was the first time Max and Sprout have ever competed this is an amazing result. I am soooo proud of everyone they worked super hard before the trial and overcame some major first time nerves to smash it. Roll on 2018 and more trials.